Apr. 21st Joyful Thanks
Bible Reading: Deut. 28:47; Ps. 16:11; Is. 61:3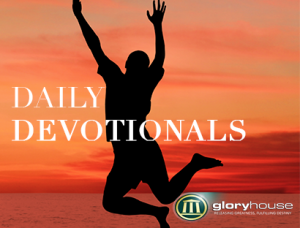 Ps. 95:2 'let us come before His presence with thanksgiving; let us shout joyfully to Him with psalms'
Give thanks to God without a sad or morose countenance but with gladness of heart. He said serve the Lord with gladness. Real joy is not an emotion but what the Holy Spirit, the author of real joy, gives.
Joy comes from a real and tangible relationship with God. His presence is real, His joy is real and you can reach out for the oil of joy. The Holy Spirit in your life, present and active, is the oil that flows. 'For the kingdom of God is not eating and drinking, but righteousness and peace and joy in the Holy Spirit' Rom. 14:17
Let the joy of the Lord be your strength and with joy draw from the wells of God's salvation. Buy into Jesus joy, the joy that flows like a river and let this overflow into heartfelt, God glorifying thanksgiving and praise. Neh. 8:10b; Is. 12:3
Get ready for testimonies initiated by your joyous praise and thanksgiving. I see the power in your praise being released as you lift your voice before the King of Heaven in delightful, ecstatic and joyful thanksgiving. Ps 103:1-5
Prayer:
• Praise God for changed lives, established saints and accelerated growth in our departments, GH fellowships and church branches. Ps. 67:5-7; Acts 2:41, 46-47
• Ask God to arrange for your particular heartfelt need to be met. There shall be no more delays! Ps. 16:5; Heb. 10:37
Thought for the day:
Joyful praise produces joy.