Apr. 24th No More Mourning
Bible Reading: Rom. 8:14; Jn. 10:4; 5:25-26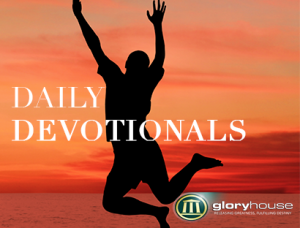 Rom. 8:15 'for you did not receive the spirit of bondage again to fear, but you received the Spirit of adoption by whom we cry out, Abba, Father'
Praise is spiritual, it emanates from the heart and is a potent antidote to mourning and depression. Child of God, if the devil attacks and people come round, expecting to meet you bereaved, let them find you rejoicing.
Step into the Spirit and out of the natural. Be spiritual and renounce the natural urges of the flesh. Confess with conviction and say 'I am ruled by the Spirit of God and not by carnal circumstances and situations'.
Over the years I have learnt to follow the leading of the Holy Spirit promptly and without question. It's the secret to lasting joy and peace. Just do as He says and His Word and Spirit clearly say stop mourning and start praising.
Any thought or feeling that's doubt, unbelief or fear is of the devil and not of God. Let your 'M. O.' (modus operandi) be to be ruled by the Spirit of God and to operate within the confines of His governance. I see a new day of joy dawning all over you in the name of Jesus.
Prayer:
• Speak peace to every raging storm of life; say, 'No more fears, troubled dreams & sleepless nights'. Mk. 4:39; Ps. 91:5
• Declare, 'I shall not be ashamed or disgraced. My God will be with me in trouble; He will deliver me and honour me. Is. 45:17; Ps. 91:15
Thought for the day:
Make joy and praise your m. o.